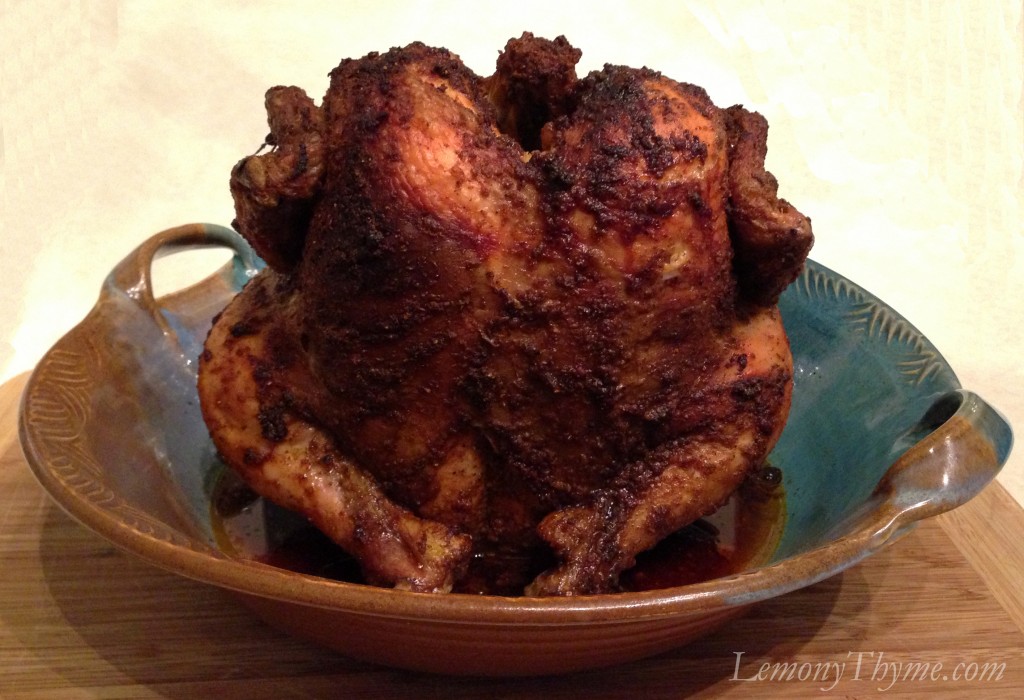 Peruvian Chicken.  When my co-worker Cindy told me she had a recipe that was right up my alley…I listened.  She knows me.  Peruvian Chicken she promised was packed full of incredible make-you-get-a-little-giddy flavor…and wouldn't you know this recipe is just in time for Winter Thyme Spice Exploration.  She really knows me.
You might know this about us by now….every week we cook a whole chicken.  Why wouldn't we?  You get an amazing chicken dinner on night #1, glorious homemade chicken broth and leftover chicken on night #2 (or 3 if you don't feel like dealing with it), and on subsequent days you can make sumptuous soups, stews, or chilis.  Why not cook a whole chicken every week?!!  Peruvian Chicken Soup here we come.
Once Peruvian Roast Chicken was on my radar I did my typical recipe research.  There are many similar recipes out there for this make-you-get-a-little-giddy dish.  They call for a marinade of white vinegar, white wine, canola, garlic powder, paprika, cumin, pepper, and salt.  We mostly followed this recipe for El Pollo Rico aka Peruvian Chicken.  A slow mud bath in the divine paste (4-24 hours) and then onto the…..grill, rotisserie, beer can chicken Bodacious roaster.  We chose to use our Bodacious roaster because it gives the chicken skin the most exposure, resulting in crispy skin which we love.  In addition, this roaster has what we call 'the moat'.  The place where delicious juicy love ends up at the end of cooking.  We'll come back to that in a moment.  We started roasting slow in a cold oven set at 300 degree for 1 hour, moved up to 350 for the next 45 minutes, then crisped this South American Goddess for another 15 minutes at 400 degrees, until her timer said "Pop."
Recipe note:  you can stick a thermometer in it or you can just trust what chicken experts have already figured out….the pop-up timer. 
Recipe note #2: you could just cook this at 350 degrees the entire time.  Not sure why we didn't.
We paired this glorious bird with an absolutely amazing Quinoa recipe I pulled together incorporating as many Peruvian ingredients we had on hand.  I did not know, but my research helped me discover, that Quinoa originated in the Andean region of Peru, Ecuador, and neighboring countries in South America.  It was delicious on it's own and may find it's way into our next post.
As it turns out, Peruvian Roast Chicken yields a nice amount of pan drippings (which collected in the moat).  While carving the chicken I raked a piece through the this juicy love and out of no where there was one of those angels-singing moments in our kitchen.  Holy Moat…the paprika based marinade combined with the chicken drippings made the most glorious sauce.  So we liberally spooned it over our chicken and Quinoa.  I recommend you do the same.