Scrolling through my Lemony Thyme News Feed yesterday I discovered this recipe posted by Feastie (on behalf of Two Peas and Their Pod).  My first thought was YES, I do have apples and cranberries in my fridge, purchased with good intentions, yet still patiently waiting for their time to shine.  My second thought was THIS is exactly the recipe that my brand new adorable mini covered baking dishes are longing for.  My third (and final thought) was….oh my, forget the first two thoughts…this Apple Cranberry Crisp sounds awe-mazing and I'm making it.
Apples, cranberries, sugar, lemon zest, and lemon juice tossed together in a bowl to get happy.  Brown sugar, old fashioned oats, flour, cinnamon, all spice, honey and butter hand blended in a separate bowl to create a crumble topping.
Baked in buttered dishes until the cranberries burst with happiness and the buttery crumble topping sends an aromatic wave through the kitchen.  Ice cream served on top of warm Apple Cranberry Crisp is most definitely a happy place.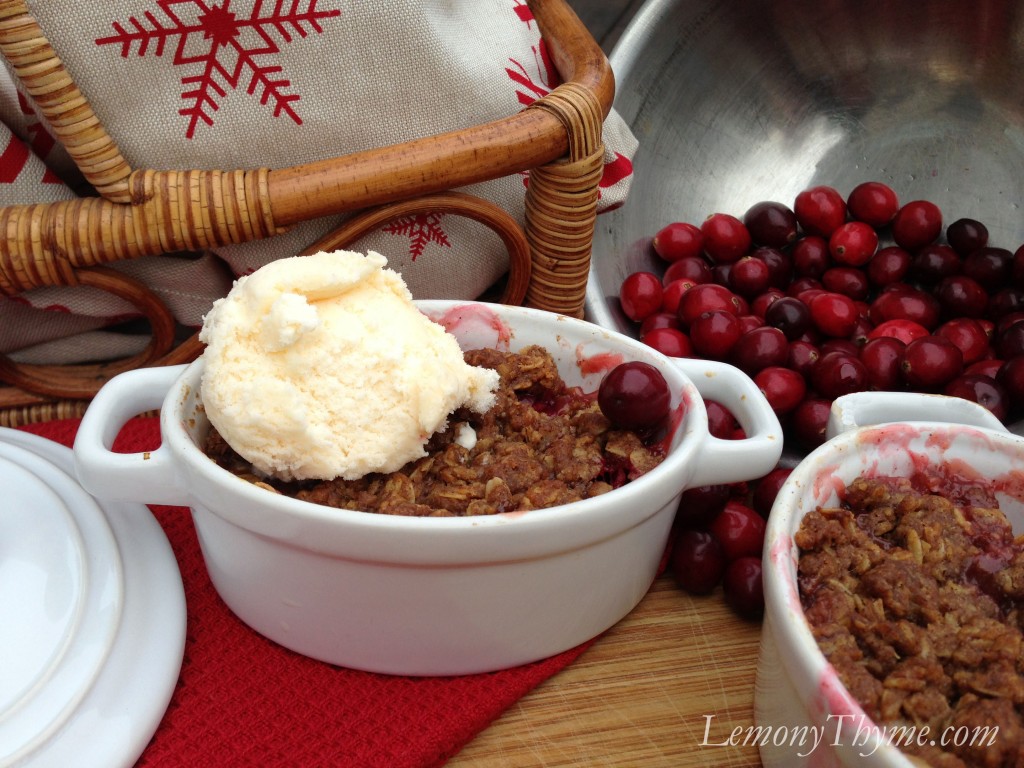 Note:  we are embarking on another eat out of the fridge/pantry adventure.  Do not fear the holiday leftovers.  At the time of this post, we've already enjoyed three (including this Apple Cranberry Crisp) delicious dishes made from leftovers or left over ingredients.  Stay tuned for Beef Stroganoff and Ham Bone Soup coming your way.