Eggplant Parmesan Stacks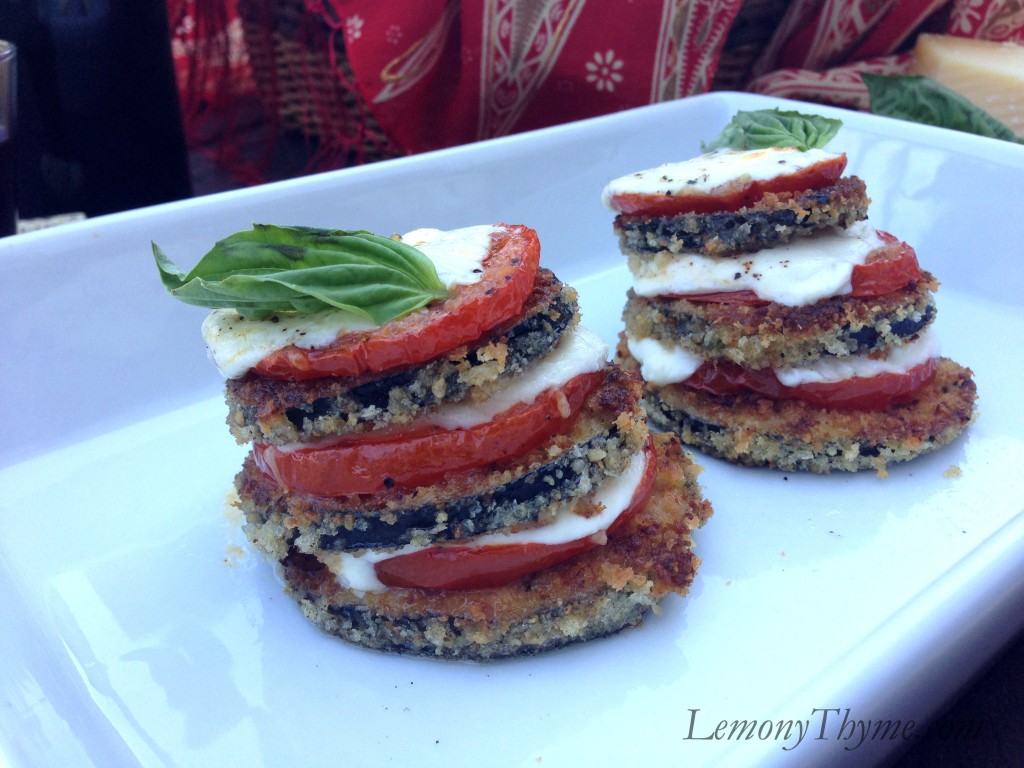 Author:
Libby with Lemony Thyme
1 eggplant
kosher salt
2 eggs, beaten
1 cup Italian bread crumbs
2 Tbl. olive oil
2 medium tomatoes
1 ball fresh mozzarella, ¼" thick slices
salt & pepper
olive oil
fresh basil leaves
Slice eggplant into ¼" thick slices, place in a single layer in a colander. Sprinkle with kosher salt and allow to sit for about 30 minutes. Rinse slices, then dry between paper towels.
Preheat oven to 350 degrees. Slice tomatoes into ¼" thick slices and place on a foil lined baking sheet. Season with salt & pepper and a drizzle of olive oil. Bake for 7-10 minutes until the flesh begins to bubble. Do not overcook or the tomatoes will not hold up to stacking. Set aside.
Set up an egg wash & bread crumb station. Egg in one dish, crumbs in another. Dip eggplant slices in egg, then coat well in bread crumbs. Set slices on a parchment lined baking sheet.
Pan fry slices in olive oil until golden brown on both sides. Eggplant will be tender, but not mushy. Set aside.
In a baking pan, assemble stacks beginning with eggplant, then tomato, then mozzarella. I was able to go three rows high. Then sprinkle with salt & pepper and drizzle with olive oil.
To finish, bake at 350 for 15 - 20 minutes until the cheese gets nice and bubbly.
Garnish with fresh basil leaves.