Curried Turkey and Israeli Couscous Salad {with Dried Cranberries}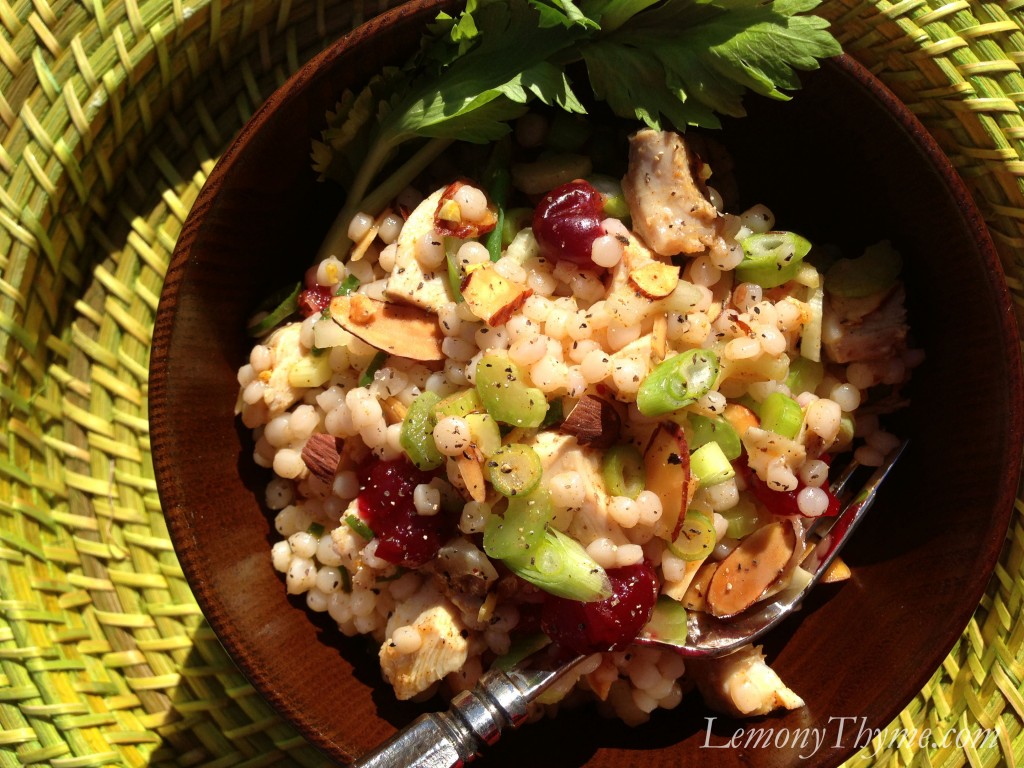 ¼ cup freshly squeezed orange juice
½ cup dried cranberries
Kosher salt
1 cup Israeli couscous
6 oz. skinless roast turkey meat, cut into medium dice (1-1/2 cups)
½ cup toasted almonds, chopped
2 medium celery stalks, finely chopped
2 scallions, thinly sliced
3 Tbs. extra-virgin olive oil
4 tsp. white wine vinegar
1-1/2 tsp. curry powder
Freshly ground black pepper
In a 1-quart saucepan, bring the orange juice to a boil over medium-high heat. Add the dried cranberries, stir, and set aside.
In a 3-quart saucepan, bring 2 quarts of well-salted water to a boil over high heat. Add the couscous and simmer until al dente, about 8 minutes. Drain and rinse with cold water until the couscous is cool. Drain again thoroughly and transfer to a large serving bowl.
Add the cranberries and orange juice, turkey, almonds, celery, and scallions.
In a small bowl, whisk the olive oil, vinegar, and curry powder.
Add to the couscous mixture and toss to combine. Season to taste with salt and pepper and serve.
Recipe by
Lemony Thyme
at http://www.lemonythyme.com/curried-turkey-and-israeli-couscous-salad-with-dried-cranberries/