Herb Stuffed Baked Tomatoes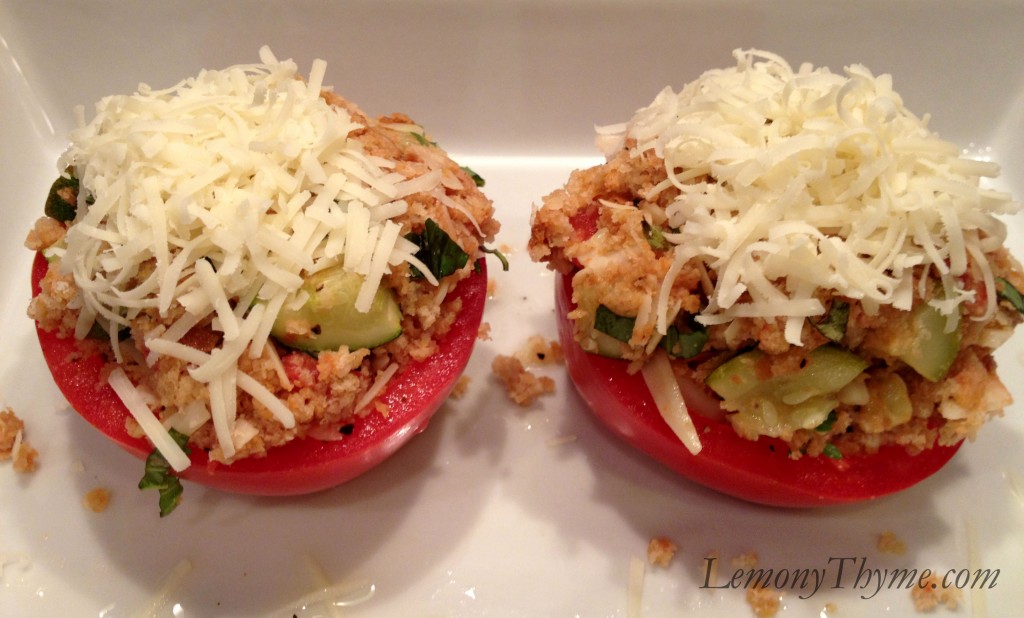 Author:
Libby with Lemony Thyme
2 ripe tomatoes, about 3" in diameter
1 small zucchini, diced
1 garlic clove, thin sliced
1 Tbl. olive oil
2 cups fresh soft bread crumbs
¼ cup Parmesan cheese, shredded
¼ cup fresh herbs, chopped (basil, oregano, thyme, parsley)
1-2 Tbl. olive oil
salt & pepper
Preheat oven to 375 degrees.
Cut tomatoes in half, scoop out insides with melon baller and reserve.
Cut zucchini into small cubes, toss with garlic slices, reserved tomato and a little olive oil and roast for 20 minutes on shallow baking sheet, until zucchini is tender.
Combine soft bread crumbs with cheese, fresh herbs, roasted zucchini mixture, and olive oil.
Season with salt & pepper
Fill tomato halves with stuffing, top with grated Parmesan cheese and a drizzle of olive oil
Bake in shallow baking pan for 15-20 minutes until tops start to brown.
Recipe by
Lemony Thyme
at http://www.lemonythyme.com/herb-stuffed-baked-tomatoes/