Pozole Verde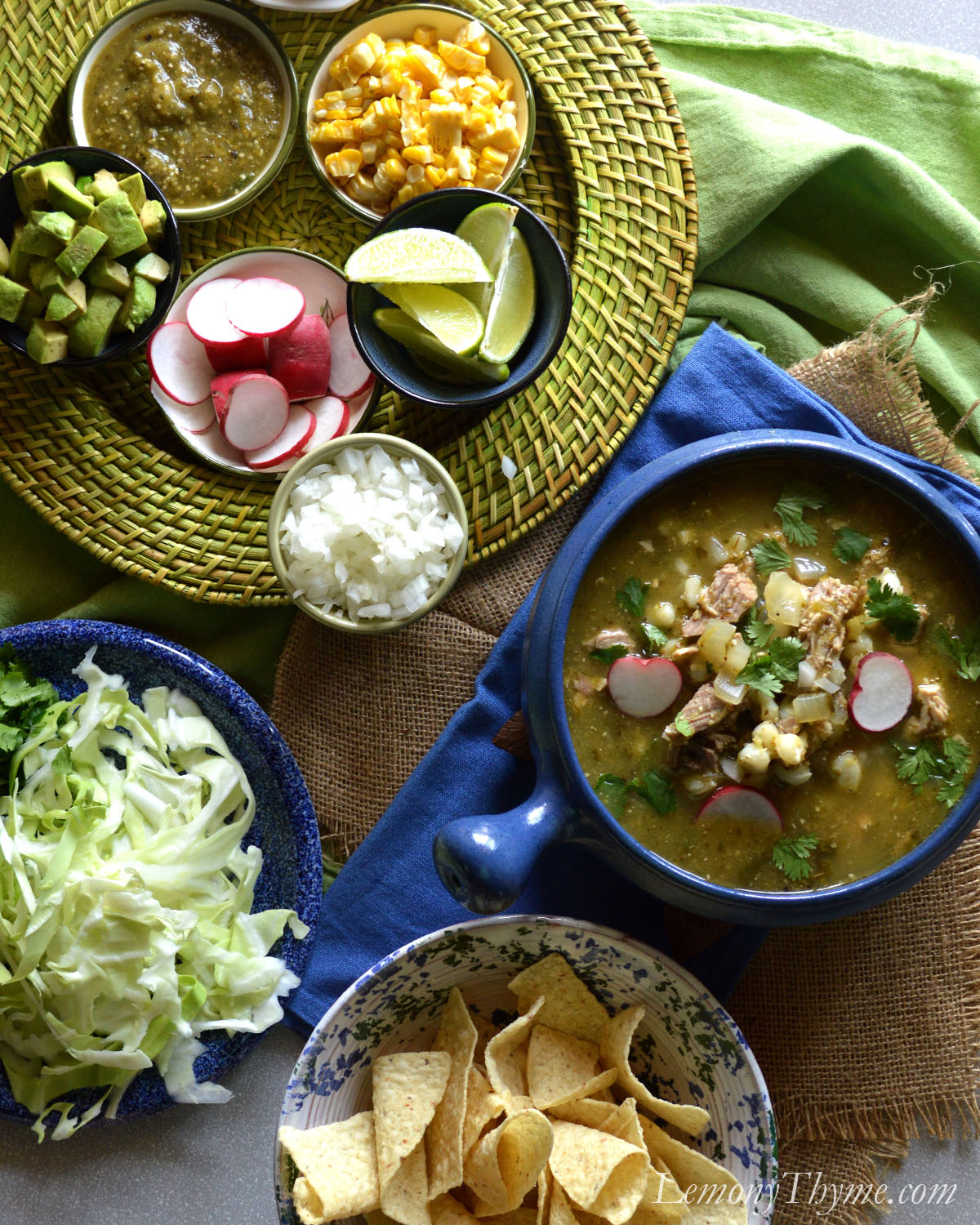 Author:
Libby with Lemony Thyme
2 lbs. Boston butt pork roast, cooked & cubed (see recipe link in post)
1 lb. tomatillos, husks removed
2 poblano peppers
3 jalapeno peppers
2 banana peppers
1 small onion, peeled and left whole
1 medium onion, fine diced
2 ears corn, optional
½ cup pumpkin seeds
1 Tbl. cumin seeds
3-4 cloves garlic, minced
1 cup fresh cilantro leaves, plus more for garnish
6 cups chicken stock, divided
1 Tbl. canola oil
1 29-ounce can white hominy, drained & rinsed
2 tsp. dried oregano
1 tsp. chile powder
1 tsp. black pepper
1 tsp. salt or to taste
shredded cabbage, fresh cilantro, lime wedges, fine diced onion, diced avocado, sliced radish, sour cream, roasted corn kernels (optional), extra verde sauce, tortilla chips
Cook Boston butt pork roast, recipe link in post.
Preheat oven to broil.
Place tomatillos, poblano peppers, jalapenos, banana peppers, 1 small onion, and corn (optional) on shallow rimmed baking sheet. Place on rack positioned 10-12 inches below broiler. Broil until skins are charred on one side. Turn everything over and continue broiling until well charred on all sides; about 20 minutes.
Meanwhile, heat a cast-iron skillet over medium heat. Add cumin seed and dry toast for 2-3 minutes, shaking pan often until fragrant. Watch carefully so they don't burn. Remove from pan into a mortar and pestle to grind fine. Add pumpkin seeds to cast-iron skillet and toast for 3-4 minutes until slightly golden. Remove from pan and add to a food processor. Grind until fine. Reserve.
Remove vegetable tray from oven. Transfer tomatillos and onion to blender. Place peppers in a small bowl and cover with plastic wrap. Allow to steam for 5 minutes. Run under cool water, removing skins, stems and seeds. Place flesh in blender. Add garlic, cilantro, ground cumin and pumpkin seeds, along with 1 cup of chicken broth. Blend until well combined.
Heat 1 Tbl. oil in Dutch oven or large soup pot. Add half of diced onion and sauté until translucent; about 5 minutes. Pour in all but ½ cup of blended tomatillo mixture. Simmer over medium-low heat for 20 minutes. Add in hominy, cubed pork, oregano, chili powder, salt & pepper. Heat through. Adjust seasoning to taste.
Ladle pozole into individual bowls, then pass garnishes.
Prepare assorted garnishes in small dishes that can be passed.