Thanksgiving Dinner Party Meatballs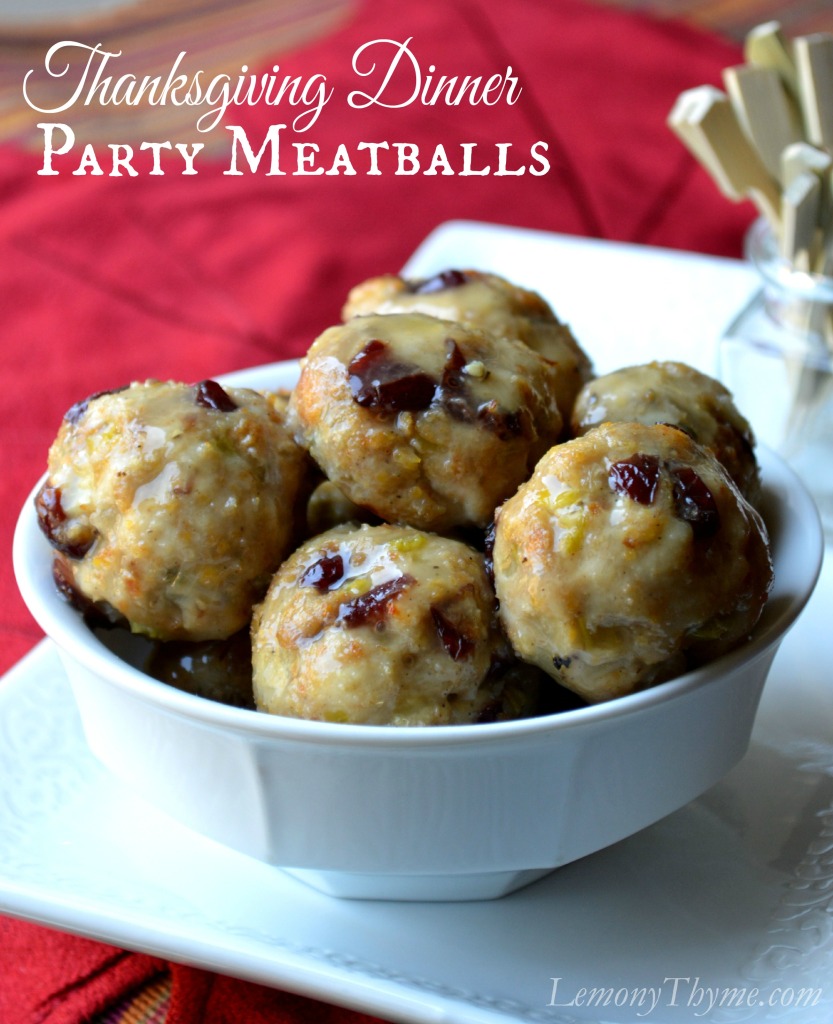 Author:
Libby with Lemony Thyme
1 lb. lean ground turkey
1 Tbl. butter
½ cup celery, finely diced
½ cup onion, finely diced
½ cup dried cranberries, chopped
1 cup chicken or turkey broth
½ tsp. poultry seasoning
½ tsp. salt
½ tsp. black pepper
2 cups dry Pepperidge Farm Cornbread Stuffing
2 Tbl. egg whites
2 Tbl. cornstarch
½ tsp. poultry seasoning
salt & pepper to taste
2 cups chicken or turkey broth
Sauté celery and onion in butter until softened. Add in dried cranberries, broth and seasoning. Bring to a boil. Remove from heat and stir in dry stuffing. Toss to combine. Allow to cool to room temperature.
Preheat oven to 350 degrees. Line two baking sheets with parchment paper.
Combine stuffing with ground turkey and egg whites. Mix until just combined. Form into 1½-inch meatballs; place on baking sheet. Bake meatballs for 30 minutes.
Heat broth in a saucepan. In a small jar with lid, combine cornstarch and poultry seasoning with ½ cup hot broth. Shake vigorously until well combined. Whisk cornstarch mixture into remaining broth and bring to a boil for 1 minute. Remove from heat. Season with salt & pepper to taste.
Toss meatballs in gravy. Be sure to spoon extra graving into serving bowl.
Recipe by
Lemony Thyme
at http://www.lemonythyme.com/thanksgiving-dinner-party-meatballs/