Homemade Flatbread Pizza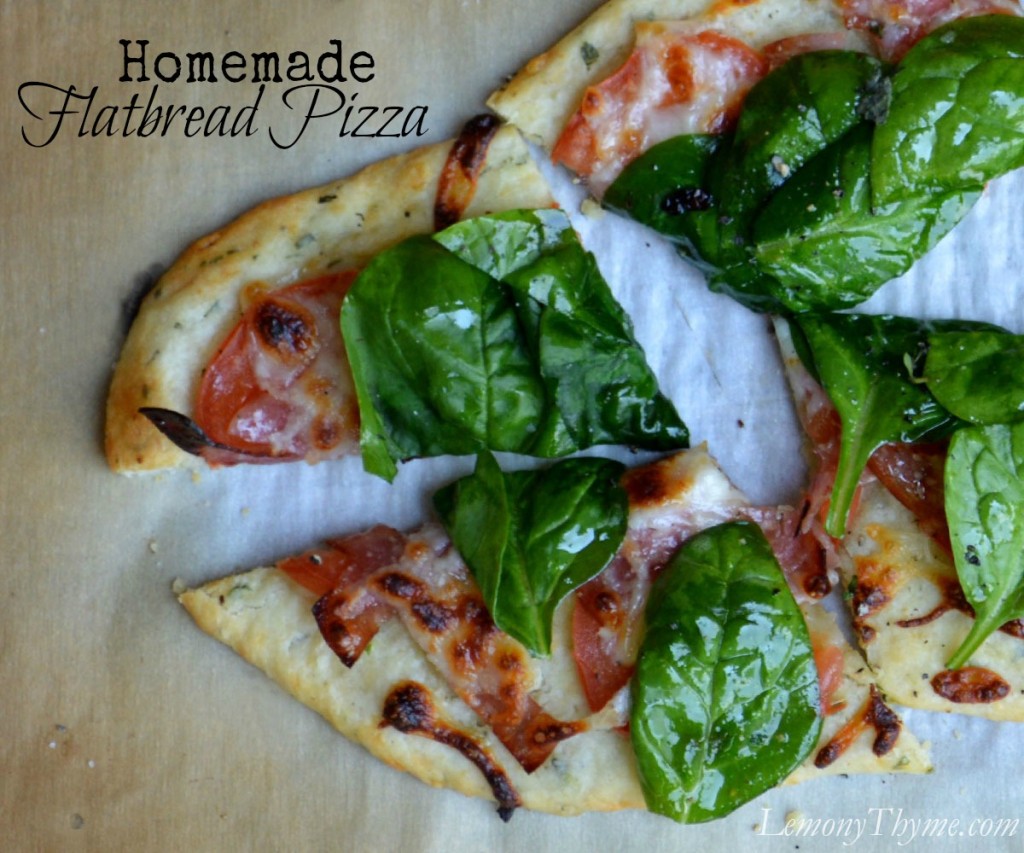 Author:
Libby with Lemony Thyme
1¾ cups all-purpose flour
½ tsp. baking powder
¾ tsp. salt
flavor add-ins (choose from options below or your own)
½ cup water
⅓ cup olive oil
additional olive oil & sea salt for topping
Parmesan & Garlic Herb ~ ¼ cup parmesan cheese, 1 Tbl. fresh finely chopped herbs, 1 tsp. garlic powder
Rosemary & Freshly Cracked Black Pepper ~ 1 Tbl. fresh finely chopped rosemary, 1 tsp. freshly cracked black pepper
Lemony Thyme ~ 1 Tbl. fresh finely chopped lemon thyme, 1 Tbl. lemon zest
Seed Blend ~ ¼ cup assorted seeds (such as poppy, sesame, sunflower, flax, chia)
Favorite sauce, cheese, toppings
Place pizza stone or heavy baking sheet on center rack of oven. Preheat oven to 450 degrees.
In a large bowl, whisk together flour, baking powder, salt and choice of flavor add-ins. Make a well in the center and add water and oil. Stir until just combined then turn out onto a lightly floured work surface and knead 4-5 times.
Cut into 2 equal pieces. Place each on parchment paper and roll until about ⅜-inch thick. Brush lightly with olive oil and sprinkle with sea salt (optional). Slide onto un-rimmed baking sheet, then slide parchment/dough onto pizza stone. Bake for 3-4 minutes. Slide parchment paper back onto un-rimmed baking sheet and add favorite toppings. Return to oven and bake an additional 6-8 minutes until the cheese is melted and bubbly. Cool slightly before serving.