Coconut Macaroons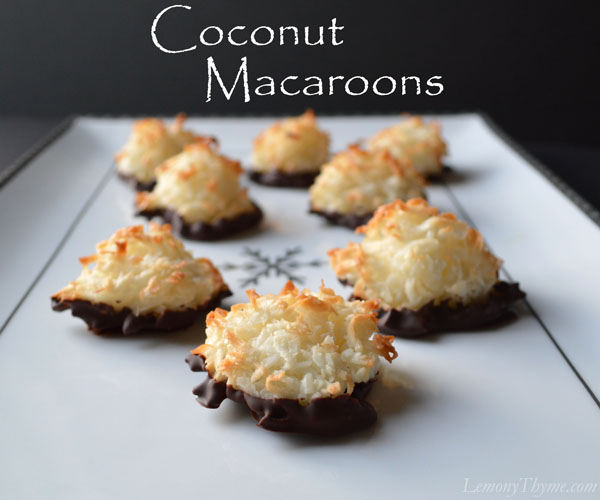 Author:
Libby with Lemony Thyme
1 14-ounce pkg. sweetened coconut flakes
6 Tbl. flour
½ cup sugar
4 egg whites
1 tsp. almond extract
1 8-ounce pkg. semi-sweet baking chocolate squares, optional
Preheat oven to 325 degrees. Line baking sheets with parchment paper.
In a large bowl, mix coconut, flour, and sugar. Stir in egg whites and almond extract.
Using a tablespoon scoop 36 balls of coconut mixture and place 2 inches apart on parchment lined sheets.
Bake for 20 minutes or until edges are golden brown. Remove from sheets and cool completely on wire racks.
If dipping in chocolate, melt chocolate squares in microwave stirring every 30 seconds. Dip cooled macaroons in chocolate and return to parchment lined sheet. Chill in refrigerator until chocolate is set, about 15 minutes.