Dark Chocolate & Walnut Biscotti {and Coffee on the Porch}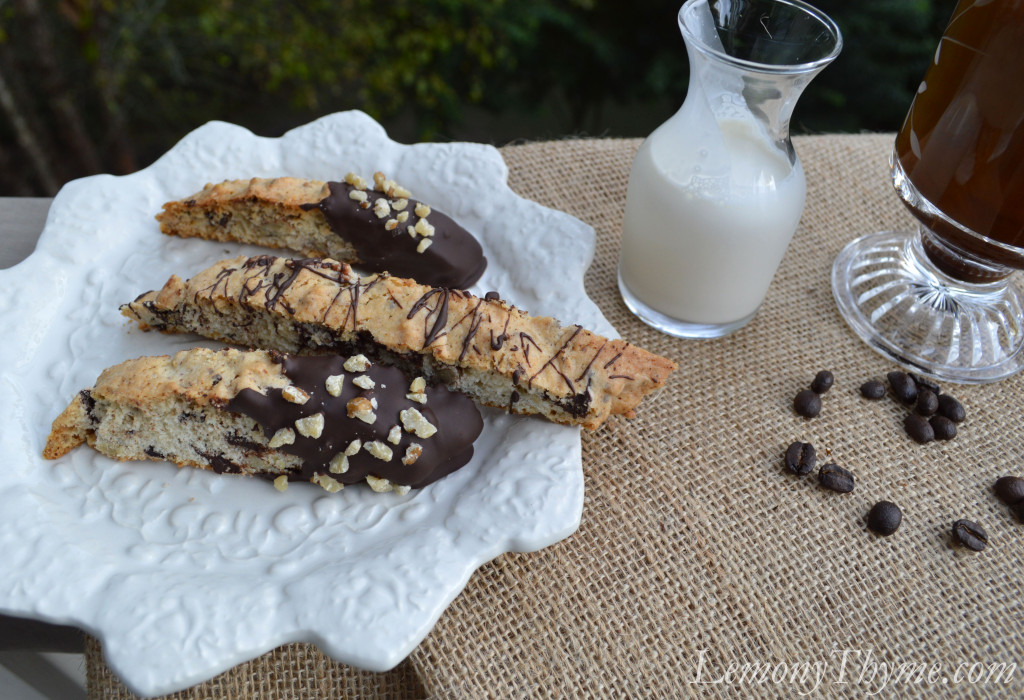 ½ cup butter (1 stick)
¾ cup sugar
2 eggs
1 tsp. vanilla
2 cups flour
1½ tsp. baking powder
¼ tsp. salt
2-ounces Ghiradelli Bittersweet Chocolate, chopped
2-ounces Baker's Semi-Sweet Chocolate, chopped
1 cup walnuts, chopped
8-ounces dark or semi-sweet baking squares
2 Tbl. chopped walnuts, optional
Preheat oven to 325 degrees. Line baking sheet with parchment paper.
Beat butter and sugar until light and fluffy. Beat in eggs and vanilla. Mix in four, baking powder and salt. Stir in chocolate and walnuts. Shape dough into 2 914 x 1½-inch) slightly flattened logs. Place 2 inches apart on parchment lined baking sheet.
Bake 25 minutes or until lightly browned. Place on a cutting board: cool 5 minutes. Using serrated knife, cut each log into diagonal slices about ¾-inch thick. Place slices upright on baking sheet. Bake 10 minutes or until slightly dry. Cool on wire racks.
Melt 8 squares of dark or semi-sweet chocolate. Dip ½ of each biscotti into melted chocolate and transfer to parchment lined baking sheet. Sprinkle with chopped walnuts.
Recipe by
Lemony Thyme
at http://www.lemonythyme.com/dark-chocolate-walnut-biscotti-and-coffee-on-the-porch/