Italian Stuffed Mushrooms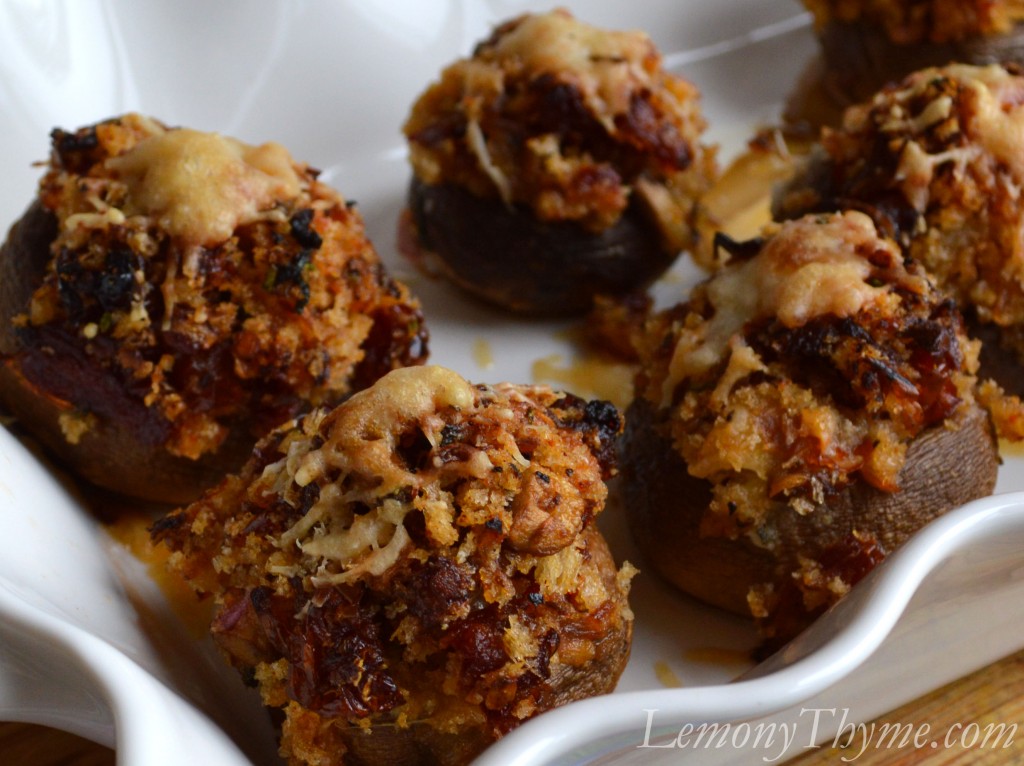 Author:
Libby with Lemony Thyme
6 oz. fresh mushrooms, wiped clean
1 Tbl. olive oil
4 Tbl. Boursin herb spread
2 Tbl. sun-dried tomatoes packed in oil, chopped
2 Tbl. red onion, fine diced
½ tsp. fresh rosemary, minced
¼ cup Parmesan cheese, grated
¼ cup panko bread crumbs
Freshly cracked pepper
pinch red pepper flakes, optional
2 Tbl. Parmesan cheese, shredded for topping
olive oil drizzle
Preheat oven to 350 degrees.
Remove stems from mushrooms and reserve. Wipe mushroom caps with a dry towel. Place caps in an oiled baking pan. Fill each mushroom cavity with Boursin spread.
Chop mushroom stems and sauté over medium heat with sun-dried tomatoes, red onion, and rosemary in 1 Tbl. olive oil until onion is tender.
Remove from heat. Stir in Parmesan cheese and panko. Season with pepper.
Top each mushroom cap with 2-3 Tbl. of filling mixture, squeeze gently with hand to form and help shape on mushroom caps. Sprinkle each with grated Parmesan cheese and a drizzle of olive oil.
Bake for 20 - 25 minutes until golden browned. Let stand for 5 minutes before serving.
Recipe by
Lemony Thyme
at http://www.lemonythyme.com/italian-stuffed-mushrooms/