Salted Chocolate Toffee Pretzel Bark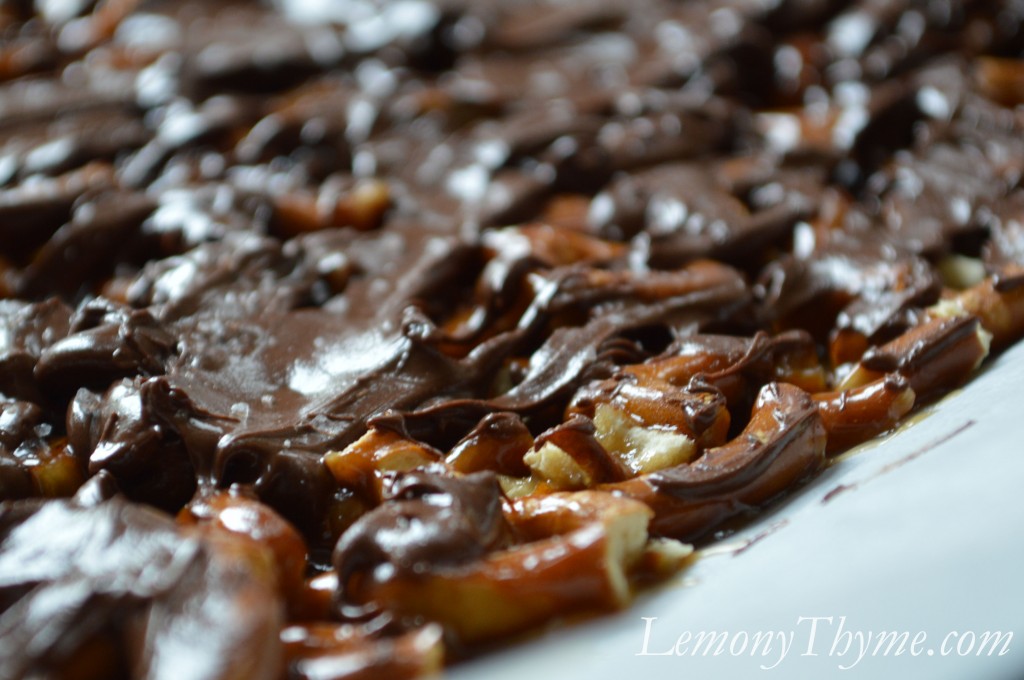 About 8 oz. (half of a 1-pound bag) mini pretzels, broken into smaller pieces.
1 cups (2 sticks) butter
1 cup light brown sugar, packed
2 cups (one 12-ounce bag) semisweet chocolate chips
Sea salt
Preheat oven to 375 degrees. Line 11 x 17 shallow rimmed baking sheet with parchment paper or aluminum foil. Cover bottom of pan with broken pretzel pieces. Set aside.
In a medium sauce pan over medium heat, combine the butter and brown sugar. Whisk together until combined. When mixture begins to gently simmer and bubble, let it cook for 3 minutes undisturbed (no stirring). Immediately pour hot caramel over pretzel pieces in a back and forth motion to cover most of the pretzels, a few bare spots are okay.
Bake for 5 minutes. Remove the pan from the oven and place on a cooling rack. Sprinkle chocolate chips over hot caramel and allow to sit for 2-3 minutes until they melt. Use an offset or rubber spatula to gently spread the chocolate over the toffee. Lightly sprinkle with sea salt. Allow to cool completely at room temperature then refrigerate if needed to help the chocolate set.
Recipe by
Lemony Thyme
at http://www.lemonythyme.com/salted-chocolate-toffee-pretzel-bark/